Control Your Businesses Web Activity
Sophos secure Web Gateway Appliance enables you to take control over all your business web activity. Making web protection simple, it provides advanced protection from modern malware threats, and delivers ultra-fast performance that keeps you safe without slowing you down.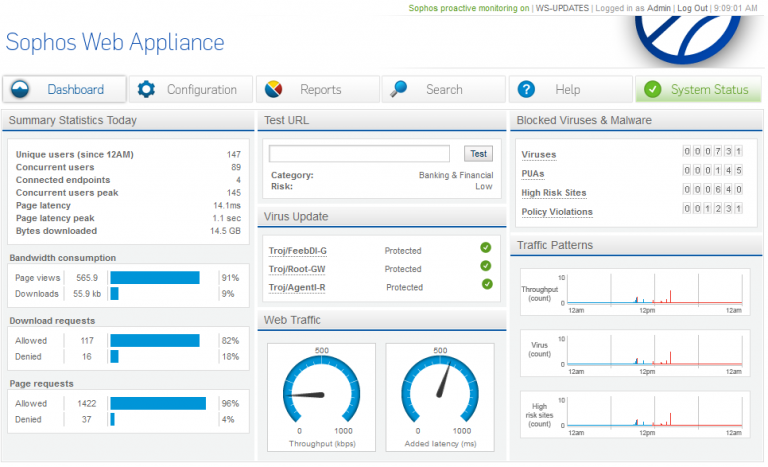 As well as automatically protecting your users from web threats, Sophos Web Appliance also enables you to control your users' access levels to certain types of content – allowing you to put your own safe browsing policies in place.
Block sites by content category, enforce browsing quota times and disable specific social media site features (like chat and comments facilities) to keep your users away from inappropriate material in the workplace.
Other Features & Benefits Include:
Rich reporting and intelligent dashboards for full visibility over your network activity.
Smart scanning engine that scans all code/scripts.
Real-time site reputation data from Sophos Labs.
Automated threat updates, multiple times per day.
Set browsing policies by user or by group.
Allow, warn, block or govern sites by quota time, across 56 site categories.
Implement time-of-day and location-based polices.
Search term monitoring and safe search.
Easily extend protection to off-site users.
Hardware and virtual versions of the Sophos web appliance are available – and we will be happy to advise on the right security solution for your business.